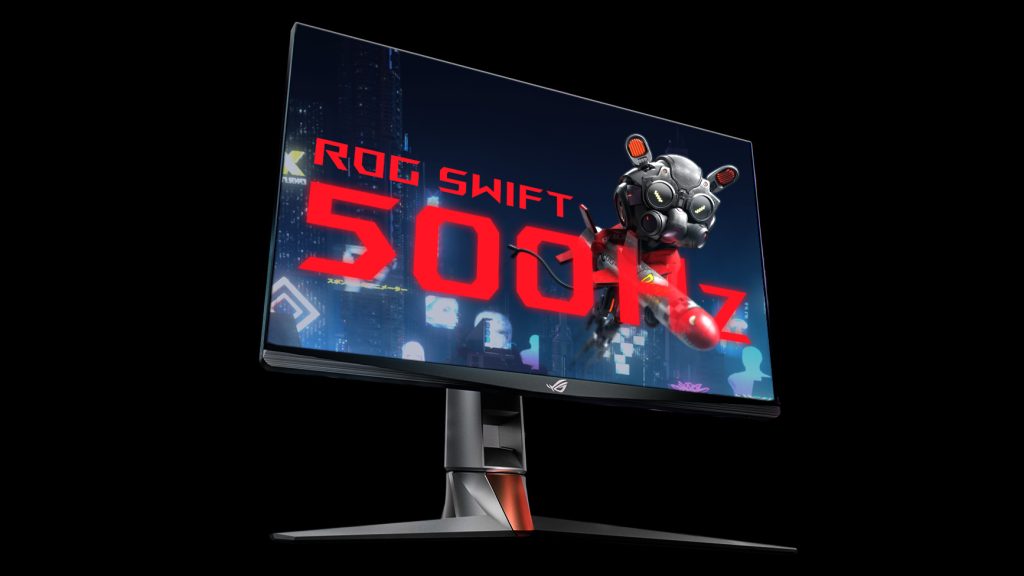 Asus has announced the ROG Swift 500Hz, a 500 Hz refresh-rate esports gaming monitor. It features a 24.1-inch FHD (1920 x 1080) display that utilises Esports-TN panel (E-TN) technology to produce 60% shorter response times than standard TN LCD displays. The monitor includes NVIDIA G-SYNC, and the enhanced Esports Vibrance mode built directly into the monitor firmware. It is reported to allow more light to travel through the LCD crystals, giving colours new levels of vibrancy and the device also includes NVIDIA Reflex Analyzer, allowing gamers to measure latency with just a single click.
"When we introduced the first 144 Hz monitor in 2012, people said the human eye can only perceive 60 frames per second," explains Gavin Tsai, Display Product Manager for ASUS. "Then, when we introduced our 240 Hz monitor, they said the human can't perceive the difference," continues Tsai. "Today, in a market where 144 Hz and 240 Hz gaming monitors are common and standard specs, we are breaking entirely new ground with the incredibly fast ROG Swift 500Hz."
With reduced motion blur and lower input latency, the ROG Swift 500Hz has been designed to give professional esports gamers an advantage in tournaments. Its low latency is made possible in part through a vital partnership with NVIDIA.
"The ROG Swift 500Hz with NVIDIA G-SYNC technology provides gamers the lowest latency available of any monitor on the market," said Seth Schneider, Esports product manager at NVIDIA. "And with NVIDIA Reflex Analyzer on board, gamers can measure their latency with one click, ensuring the fastest response times for the most intense games."