Promate, introduces its latest innovation, the GaNPort4-100PD charger, to the Indian market. This charger introduces cutting-edge GaNFast (gallium nitride) and GaN Chipset technology to revolutionize the charging experience. The product priced for Rs. 6999/- is available with 2 years warranty.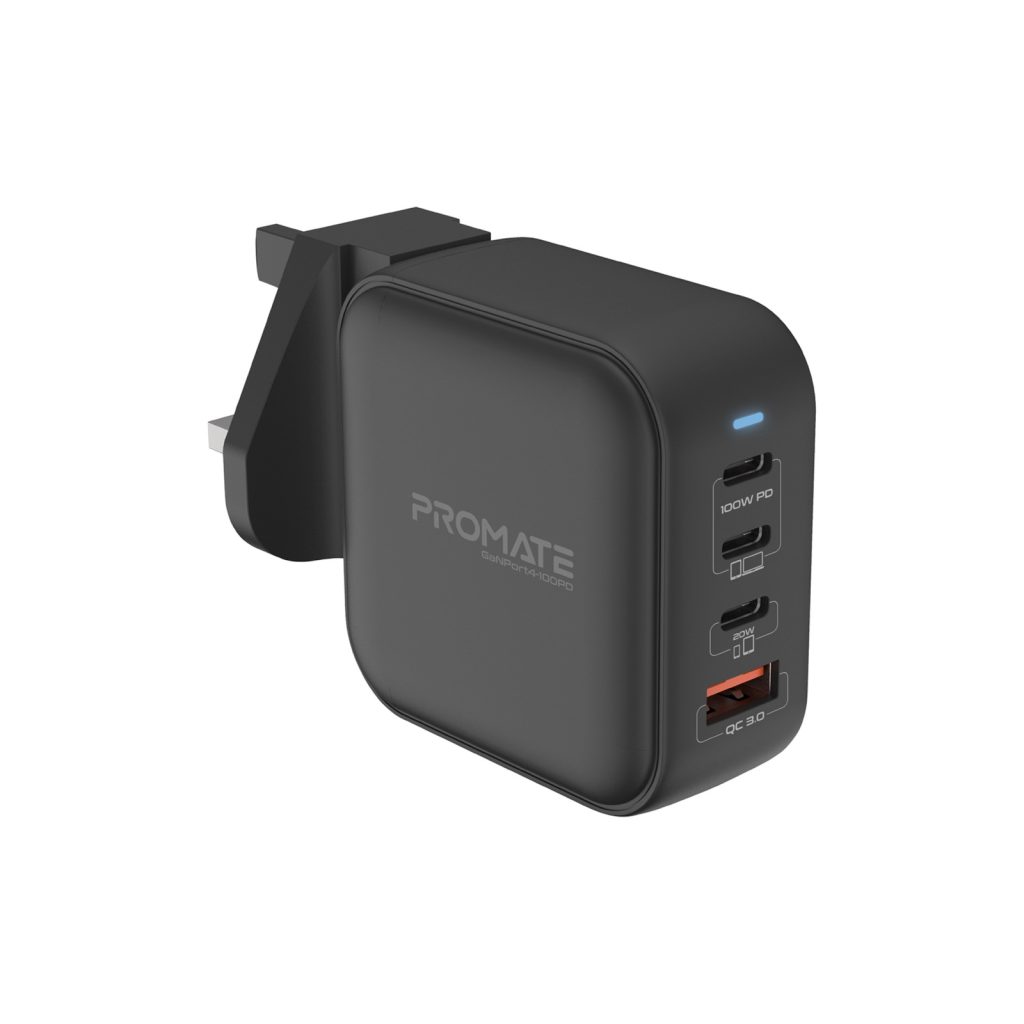 The GaNPort4-100PD charger empowers users to simultaneously charge up to four devices at maximum speeds. Its compact size and cutting-edge GaNFast (gallium nitride) and GaN Chipset technology ensure high-power transfer capabilities without compromising portability.
The charger offers multi-device compatibility, allowing users to charge everything from earbuds and smartphones to tablets and laptops while preserving battery health. GaN components optimize charging efficiency, reducing power wastage and heat generation for an eco-friendly and efficient charging experience. One of its standout features is universal voltage support (100V to 240V) and interchangeable Indian and US plugs, making it suitable for use in various regions without the need for multiple adapters.
The GaNPort4-100PD charging hub comes equipped with a 20W ultra-fast charging USB-C™ Power Delivery port that is 4X Faster than traditional chargers. It is engineered to charge compatible devices like Smartphones and Tablets from 0-60% in just 30mins. Enjoy charging multiple devices in different ports at once. The Promate GanPort4-100PD has a QC 3.0 Port that is universal and provides a powerful output of 18W, so users can plug in a variety of USB-enabled smartphone and tablet devices at the fastest possible charge speed. Quick Charge 3.0 charges compatible devices for up to 80% in just 35 minutes. This is four times faster than conventional devices.
Mr. Gopal Jeyaraj, Head of Sales at SAARC – Promate, emphasized, "This compact and efficient charger not only simplifies your charging needs but also represents Promate's commitment to delivering cutting-edge technology to our consumers. With universal compatibility and high-power transfer capabilities, this charger is set to redefine how you stay connected on the go. In the coming times, as we launch new-age gadgets, we aim to further penetrate the Indian market."