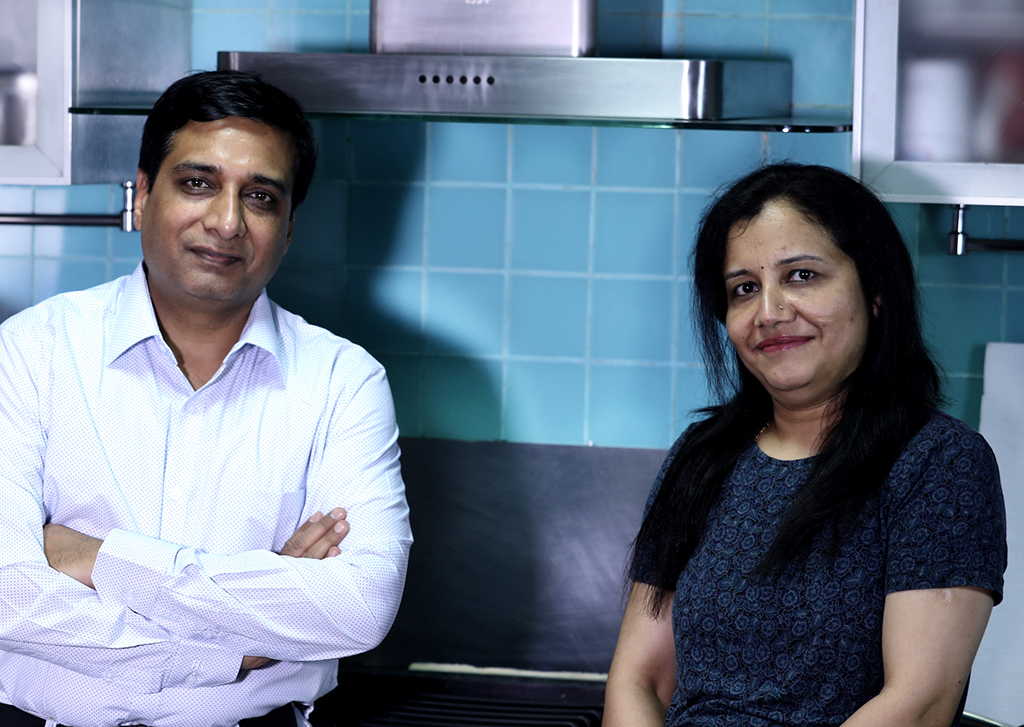 Tinychef, an AI-based culinary app, was recently in the news for its acquisition of Bangalore based app Zelish. T3 caught up with Bahubali Shete and Asha Shete, Co-Founders of Tinychef, who shared some insights about the app, the acquisition and more.
---
Give us an idea about Tinychef, the concept and how it all started
Tinychef is an AI-powered culinary app that helps users plan their meals, discover more than 3 million unique recipes, and enable a voice-guided hands-free cooking experience through Amazon Alexa and Google Home smart speakers. The concept is dedicated to the cohorts offering everything from automatic meal planning and conversational cooking to 1-click grocery shopping and works in sync with connected appliances, a perfect assistant for today's modern kitchen.
We founded Tinychef backed by sheer passion for food and technology and celebrity chef Sanjeev Kapoor joined as a co-founder to enhance the culinary experience of the platform.
What are the unique features of Tinychef, vis-à-vis other similar platforms?
Since its inception, Tinychef has been envisioned to be a one-stop platform with a complete end-to-end kitchen experience from planning a meal to shopping and cooking while keeping in mind the control over wastage of food and groceries. While most of the other platforms cater to one of the needs, we truly set ourselves apart by offering an integrated solution. These are its five core features: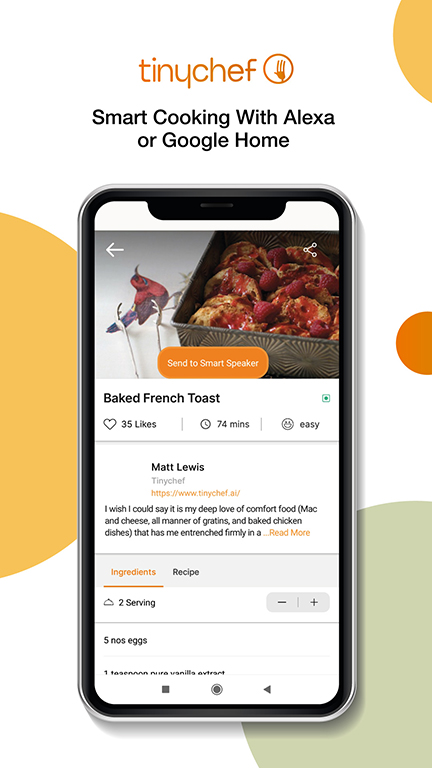 Search:
With an in-built search engine for everything related to food — from cuisines and recipes to diet preferences and ingredients, there are thousands of options to include in a daily meal.
Plan:
This smart AI-powered planning and meal recommendation feature functions as a 24×7 personal assistant-cum-nutritionist that helps savour curated meal plans every week. Moreover, a user can customise it as per the personalised diet, taste, and cuisine preferences.
Shop:
A user can automate the shopping orders based on meal plans and recipes. Everything one needs for your meals will be served without bothering to browse for ingredients or visit the store.
Cook:
A user can choose from Voice, Text, Video, or Smart Conversation on Alexa and Google Play for step-by-step guidance from some of the most renowned chefs from around the world.
Share:
Tinychef makes collaborating with family and friends easier as one can also share recipes and shop with them. This enhances the experience of a meal together with them, from start to finish.
Connecting Tinychef with smart speakers transforms the kitchen experience completely. Given that the recipes are available on Google Home and Alexa devices, the user can even ask them to add missing ingredients to their cart or handhold while making a new dish at a command.
A connected kitchen is a comparatively new concept in India. Could you elaborate on how this works in the case of Tinychef?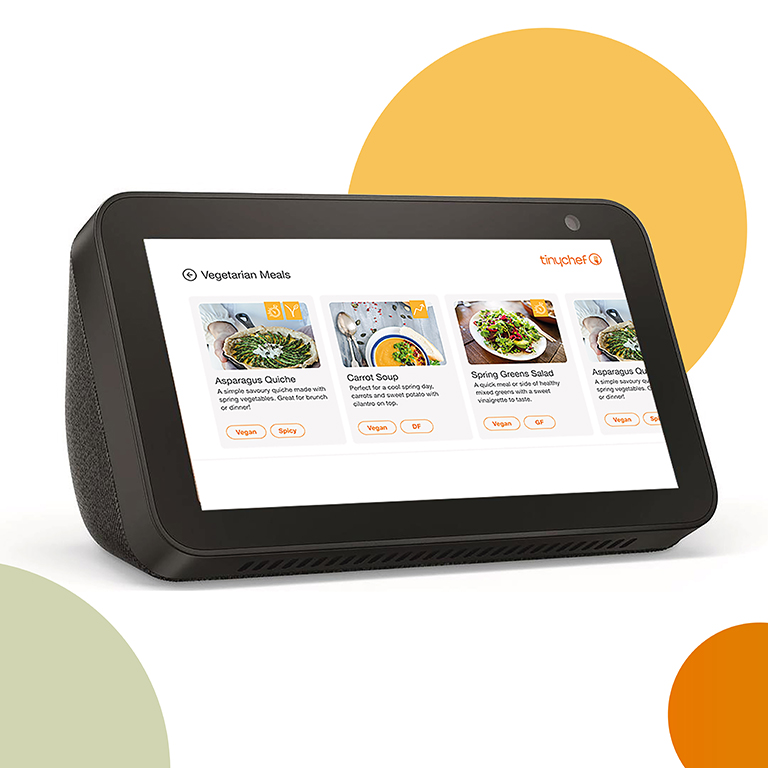 In today's digitally advanced and fast-paced world it is becoming a mandate to have technology as a part of an accepted global lifestyle that is slowly taking over Indian households too. The concept of a connected kitchen is becoming more popular in India because of the societal changes and affordability compared to a few years ago. Unlike yesteryears, Indian women are not just confined to being a homemaker but also equally are breadwinners to their homes. The modern generation of Indian men and women are sharing their kitchen chores while being absolutely adept and up to date with technology. The availability of smart kitchen appliances helps save time and energy making it so much easier for people to enjoy cooking from home.
How has been the reception to the platform? Could you share some numbers?
Zelish had close to 125,000 users when acquired. The smart speakers see monthly traffic of over 100,000 people.
What has been the biggest change you noticed during the lockdown period?
The idea behind Tinychef was to assist people with the day-to-day complexities from what to cook and grocery shopping to then actually cooking meals beyond the norm. The impact of the pandemic forced people to stay at home that influenced them to experiment in the kitchen furthermore. People were more conscious of safety and diet that led them to advocate home-cooked meals and try new cuisines, even the novice was leaning in on the cook from the home trend. It was the right time for the platform to launch, and it received a great response from the users.
How do you process these ingredient orders? Which cities are currently being serviced? How do you ensure timely delivery?
We have tied up with a national supermarket chain that helps us facilitate delivery. They are a seasoned service provider that takes quality & timeliness pretty seriously. We shall be going live in Bangalore, Delhi, Gurgaon, Faridabad, Chennai, Mumbai, Pune & Hyderabad
Tell us about the recent acquisition of Zelish and what it brings to the platform.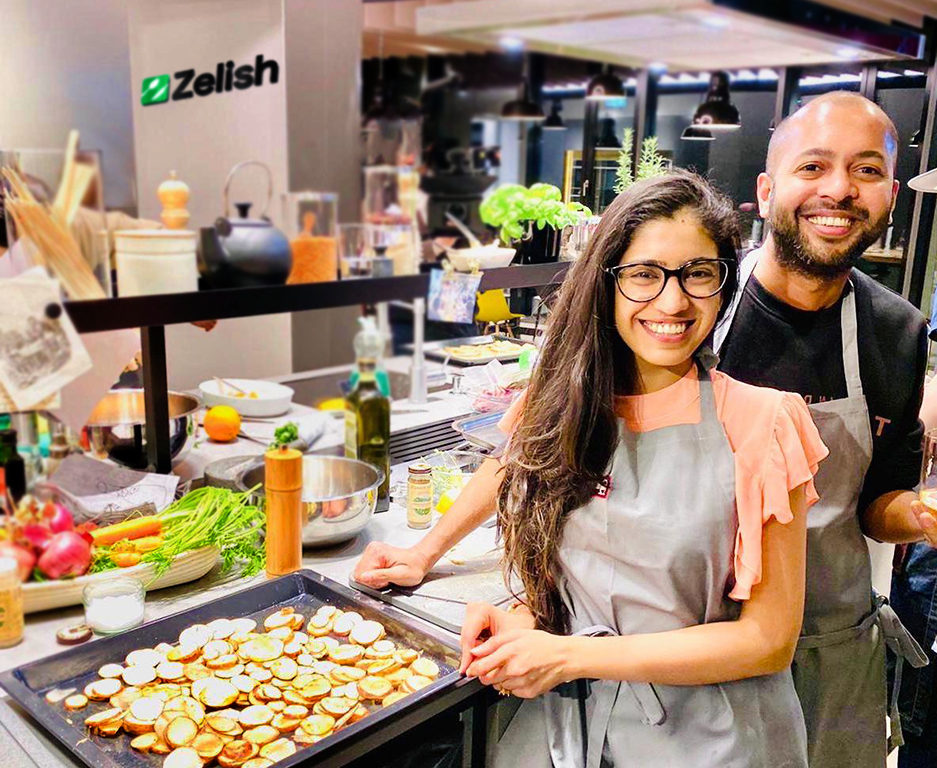 As a voice and smart speaker solution, Tinychef was looking at expanding itself and collaborate with a like-minded concept to widen the spectrum of daily cooking and kitchen-related problems with the same technology but on a different platform. Zelish, a Bangalore based app, co-founded by Saakshi Jain, Rakesh Edavalath, and Arpit Joseph came across with the same vision and thus Tinychef acquired Zelish to create an extensive conversational app with multiple features such as AI-backed meal planning, automatic grocery list building, one-click grocery shopping, and access to recipes in four different formats.
Looking forward, what other innovations can we expect from the platform?
We are constantly working to upgrade your culinary experience. A couple of features that we just introduced or are working on are:
• Grocery bill scanning feature has been recently introduced to help people plan their meals based on what they shopped.
• We are looking to introduce recipes in different languages.
• Shoppable recipes – ability to shop any recipe on our platform
• We are also actively partnering with celebrity chefs and recipe bloggers to make their recipes shoppable.