₹79,990, sony.co.in
Sony's magic hat never ceases churning out goodies, and 2022 has been particularly trying for us reviewers, thanks to their never-ending series of launches. After exotic flowers and rabbits, the brand has pulled out a massive, ear-shattering party speaker, the SRS-XV900, just in time for the New Year blast.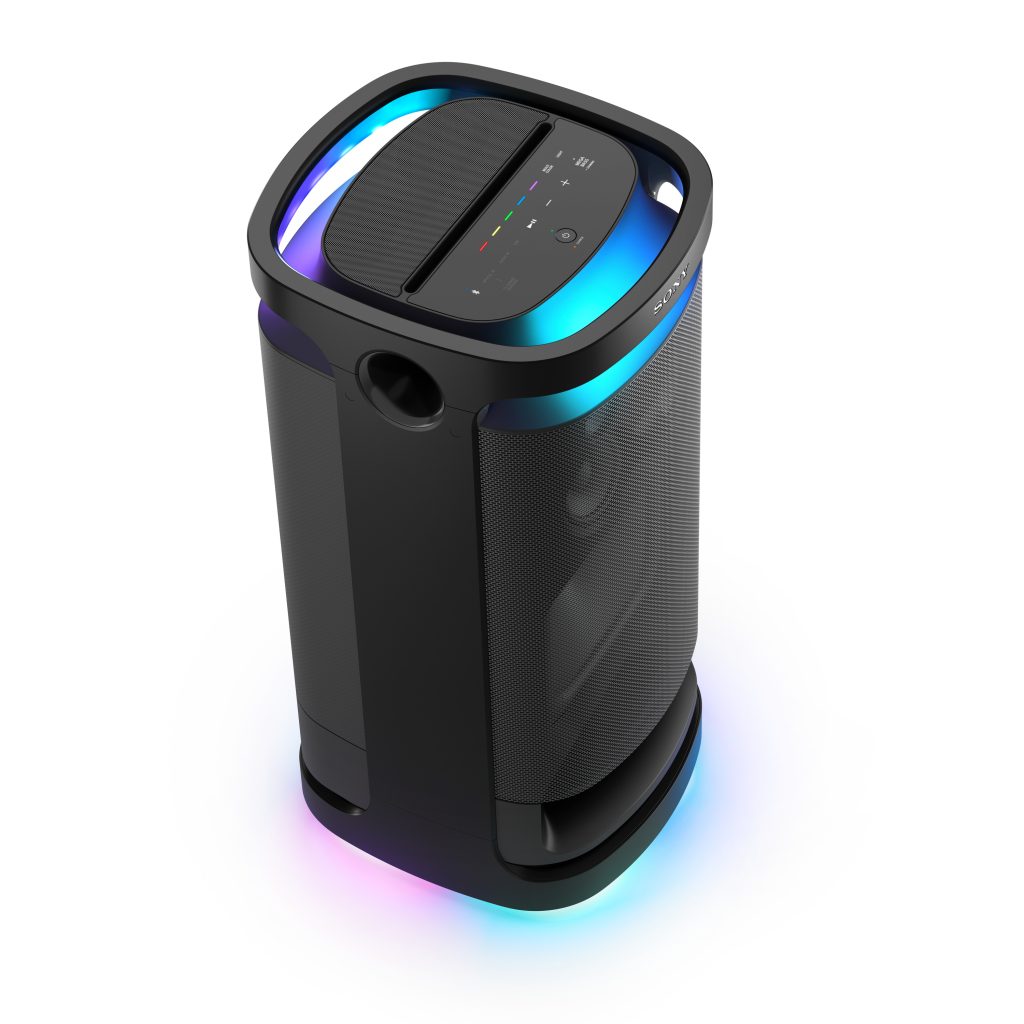 The SRS-XV900 is a full-size party speaker 88 cm high and weighs 26.6 kg. Like all Sony sound systems, the polycarbonate exterior provides a rugged feel with a matte finish that enhances the premium look. For the ease of moving around this monster speaker, Sony has incorporated two wheels at the back along with a sturdy ring-type handle on top. With this, you can lug the speaker around like a trolley bag without much effort. The touch-responsive control panel on top allows you to control volume, activate Mega Bass, and configure lighting effects. It also includes a Bluetooth button. On the rear are the physical connectors that include a USB port, 3.5 mm audio jack, and optical port for input. The USB port also offers 5V/1.5A DC power output to charge your smartphone. It also offers two karaoke MIC input jacks with individual volume controllers, one of them doubling as a guitar input. There are two buttons, one for switching to guitar mode and the other to activate Battery Care feature. The speaker connects to Sony Music Center app, which provides more than the basic adjustments including an equaliser. Connecting with Fiestable app allows you to access more party features like lighting and karaoke. The device supports SBC, AAC, and LDAC codecs.
The SRS-XV900 is designed to deliver omnidirectional sound with an X Balanced main speaker unit aided by six tweeters, making it ideal for large parties. The front tweeter is approximately 50mm in diameter, while the side and read tweeters are approximately 40 mm in diameter each. The midrange speaker is approximately 120 mm in diameter while the woofer is about 320 x 320 mm. The tweeter pairs are positioned at the front, sides, and top for optimal spread. The device offers distortion-free sound even at high volumes. The speaker's size has been utilised to its full capacity with a jet bass booster at the base providing a large chamber and optimised horn for thumping bass. With Mega Bass feature, this offers earth-shattering lows that do not interfere with other notes or drown the vocals in its reverberation. The speaker offers a Live Sound mode for the best party experience. The XV900 offers a TV Sound Booster feature that provides louder and clearer highs. In this mode, the speaker balances the position of sound to match the TV's position even with non-central placement. If you are living in a multi-storied apartment, you may not be able to enjoy the speakers beyond 60-70 per cent volume.
The speaker offers a playback time of up to 25 hours on a single charge. It features quick charging feature that provides three hours of playback time with 10 minutes of charging. The device offers a Battery Care mode that prevents overcharging and optimises the charging cycle. The speaker supports Party Connect via Bluetooth pairing, which enhances the possibility of expanding the size of the party even further by connecting with up to 100 compatible Sony Bluetooth speakers.
---
WE'RE IMPRESSED Balanced distortion-free sound, high volume with fine control, deep and optimal bass, battery life, castor wheels for transport
WE'D IMPROVE Looks complete from our side
THE LAST WORD This speaker can serve any size of party you can think of and function as your personal TV or multimedia speaker when you are not partying.