LG Electronics, announced the launch of its latest 'LG XBOOM' series. The speakers aim to transform the way people enjoy music and audio by prioritizing convenience, delivering potent sound, and providing captivating lighting effects.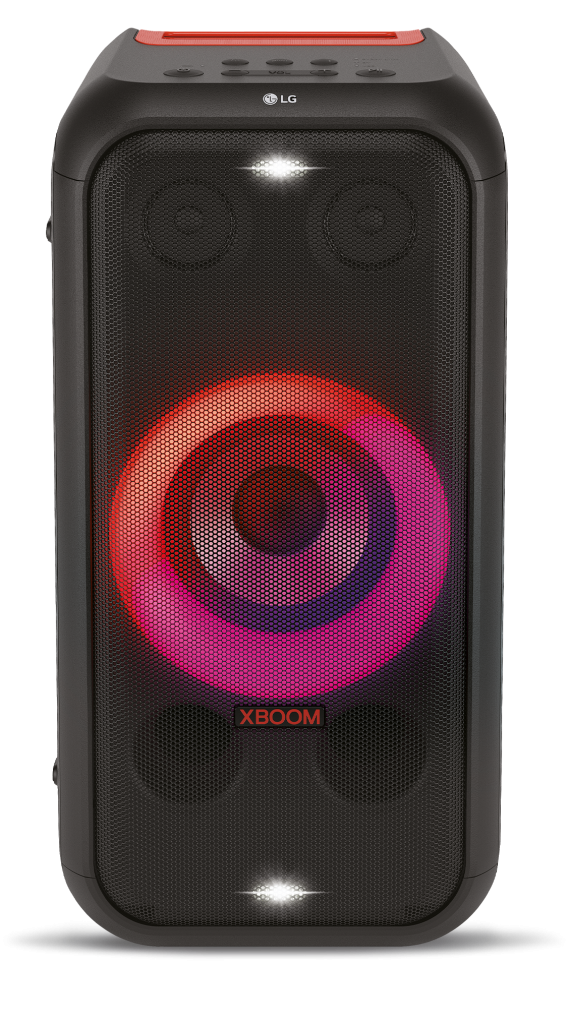 The XBOOM series features the XL7S and XL5S models, both delivering unmatched features and advantages for music lovers and those who love to celebrate. For outdoor adventurers and outstation travellers alike, the XBOOM series ensures an immersive musical experience and captivating lighting wherever the journey takes them.
Commenting on the launch, Mr. Hak Hyun Kim, Director- Home Entertainment, LG Electronics India said, "We are delighted to introduce the LG XBOOM series, representing a significant advancement in audio technology. These meticulously designed products are poised to revolutionize the audio experience for our consumers. Moreover, boasting outstanding features, robust sound reproduction, and captivating lighting effects, the fresh LG XBOOM series is poised to establish itself as the top pick for gatherings, occasions, and everyday enjoyment."
The USP of the LG XBOOM series lies in its convenience features. The LG XBOOM speakers are designed for convenience with a rugged build and ergonomic handles, making them a grab-and-go solution that's easy to carry wherever you need it. The LG XBOOM XL7S has 20-hour battery life while the LG XBOOM XL5S has a 12-hour battery life and both the speakers have an IPX4 Water Resistant rating that can withstand water splashes.
LG XBOOM XL7S
The LG XBOOM XL7S produces immense sound booming bass and clear high notes. With a colossal 250W output, the LG XBOOM XL7S is made for large gatherings, providing an immense sound that can easily fill any venue.
The LG XBOOM XL7S features an impressive beat-driven light show called Multi Color Ring Lighting. These vibrant lights dance in sync with your music, infusing dynamic energy into any party or gathering. In addition to the vibrant Multi Color Ring Lighting, the XBOOM XL7S also boasts an exhilarating "Double Strobe" lighting feature. The synchronized double strobe lighting isn't just visually stunning—it enhances the overall audio-visual synergy, giving your event a club-like ambiance.
The XBOOM XL7S offers specialized tools like DJ Pad, DJ effects, and DJ loop, elevating performances. DJ Pad provides seamless beat control, while DJ effects and DJ loop enable dynamic mixes. Personalized messages through the XBOOM app add a fantastic touch, ideal for DJs and hosts to amplify the occasion, ensuring a lively and memorable experience.
Moreover, the XBOOM XL7S is not only about stunning visuals and pulsating lights; it's also incredibly versatile when it comes to live performances. With two dedicated inputs for karaoke microphones and a guitar, this audio powerhouse transforms into a complete entertainment system.
LG XBOOM XL5S
Turn on the LG XBOOM XL5S anywhere, and watch as it effortlessly transforms any venue into a private club, immersing you in jaw-dropping, massive sound with crystal-clear high notes.
With its 16.51 cm Giant Woofer, it delivers powerful bass that truly sets the stage for any venue. The speakers are equipped with Dynamic Bass Optimizer that allows you to enjoy balanced sound without distortion of the bass. With two 6.35 cm dome tweeters, this speaker ensures crisp and clear sound, allowing you to hear high-frequency notes clearly whether you're indoors or outdoors.
With a remarkable 12-hour battery life and a convenient handle, it's designed for on-the-go fun.The XL5S is built tough with ergonomic handles, ensuring easy portability. Plus, its IPX4 Water Resistant rating means it can handle those unexpected water splashes, adding durability to the excitement.

The LG XBOOM XL7S and XL5S models will be available at a starting price of Rs 54,990/- and Rs 44,990/-, respectively.