Asics has announced two high-performance running shoes that take the power of human-centric design to the next level.
The Metaspeed Sky and Metaspeed Edge have each been scientifically designed with a distinct type of running style in mind. The new racing shoes help elite athletes to reach the top of their game without adjusting their running style to fit the shoe.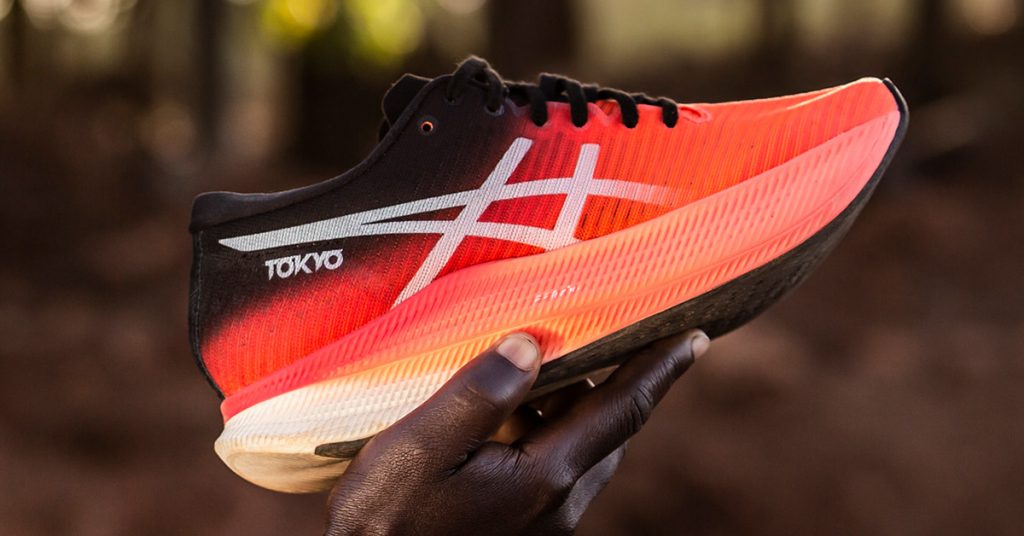 The shoes were unveiled at Asics' Innovation Summit 2021, the brand's annual showcase of the very pinnacle of new performance sportswear. This year Asics hosted its first ever, fully personalized experience, taking guests on an interactive virtual reality journey through the past, present and future of the Asics story and its longstanding commitment to human-centric design.
The unique design story behind the two new shoes centres on a crucial insight by scientists at the Asics Institute of Sport Science (ISS). They recognised that the type of shoes powering the world's fastest were only favouring one type of runner — stride runners — those with a long-loping gait with large periods spent airborne who increase their speed by extending their stride length.
Asics research however showed that these shoes do not fully support elite athletes who prefer the second major running style — cadence, which features smaller steps made while hovering over the ground with minimal up and down motion.
The sports scientists at the ISS were able to measure that athletes perform better when running in shoes that are optimised for their running style. Addressing the challenge, Asics has created the Metaspeed Sky for stride runners and Metaspeed Edge for those with a cadence style — both specially optimised and proven to improve runner performance for each of the two major running styles.
Kenichi Harano, Executive Officer and Senior General Manager at the ASICS Institute of Sport Science said: "The Metaspeed journey began with the simple insight that athletes run faster in shoes are that specially tailored for them. From here, we got to work. Following a lengthy, meticulous research and development process, Metaspeed Sky and Metaspeed Edge were born. Our initial tests are already showing them to have an impact on the times of the elite runners' we've been working with. That's why we're so excited to be unveiling them to the world today." The Metaspeed Sky has already been made available globally via the Asics website and selected specialty retail stores. The Metaspeed Edge will be available from June 4, 2021. Both shoes will retail for ₹21,999.