The Deco X50-Outdoor comes equipped with the same powerful TP-Link Mesh technology which can automatically learn the network environment, client quality, and user behaviors. With sophisticated, multifactored algorithms, it eliminates weak signal areas with a single Wi-Fi network that connects everywhere whether outdoors or indoors.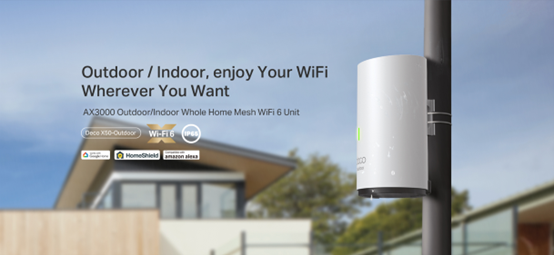 Deco X50-Outdoor comes with a flexible power supply and installation mode for more convenient outdoor use. Deco X50-Outdoor supports PoE (Power over Ethernet) as well as AC power supply, allowing it to operate in complex outdoor environments. PoE allows a single cable to provide both data connections and electrical power. Deco X50-Outdoor has two-gigabit ports with PoE, so you can get rid of extra cables and power adapters.
Deco X50-Outdoor features a weatherproof enclosure and solid operating temperature which makes it waterproof and dustproof as well as heat bearing capacity enabling strong Wi-Fi signals outdoors in any weather conditions. Be it a rainy, sunny, or windy day, the Deco x50 will seamlessly provide high-speed Wi-Fi. Flexible installation and power supply makes it even easier for outdoor use.
Key Features
AX3000 Dual-Band Wi-Fi 6 – Enjoy bingeing your favorite series in 4K with combined speeds of up to 3000 Mbps (2402 Mbps on 5 GHz and 574 Mbps on 2.4 GHz)
Multiple Mount Options – Pole mount, wall mount, and tabletop
Works Outdoors – Industry-leading IP65 dust & water resistance
Powered over Ethernet – Provides both data connections and electric power with a single cable
Full Gigabit Ethernet – 2× Gigabit WAN/LAN Ethernet ports provide solid internet access at high speeds.
Works with All Decos – Compatible with every other Deco model to form a Mesh network.
TP-Link HomeShield – Provides comprehensive network protection, robust parental controls, and real-time security