Fastrack, ventures into the affordable smart wearable segment with the launch of the new, 'Reflex Beat+'. The new smart watch with 1.69" UltraVu Display comes with a refresh rate of 60hz and 500 nits' brightness capacity to give you an immersive experience.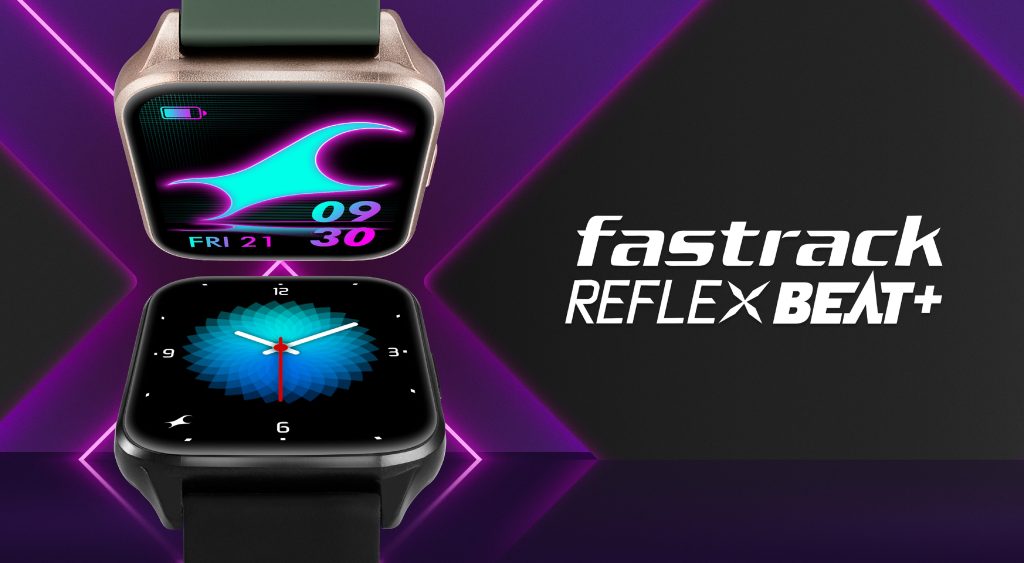 The new smart watch with 1.69" UltraVu Display and 60 Multi-sports mode along with a line-up of utility features is now available on Amazon Fashion.
Fastrack presents Reflex Beat+ at an economical and a special launch price of INR 1495 on Amazon's Great Republic Day sale. The Health Suite with an array of essential trackers such as a Heart Rate Monitor, Women Health Monitor, Sleep Tracker, and SpO2 Monitor undoubtedly makes Reflex Beat+ a quality wearable device.
The touchscreen display of the smart watch provides a seamless user experience. The silicon strap of Reflex Beat+ gives it a snug fit on the wrist and offers 60 Multi-sports mode and an IP68 rating. The smartwatch is both dust and water-resistant making it an ideal wearable for all kinds of sports and adventures.
Fastrack Reflex Beat+ is packed with features and fashionable elements and offers over 100+ cloud watchfaces. It also allows users to customize watchfaces to match their personal style and is available in five distinct colour options including Beige Latte, Wine Red, Black, Olive Green, and Deep Teal.
Mr Ravi Kuppuraj, COO Wearables Digital Health Innovator, Titan Company Limited said, "We are thrilled to offer Reflex Beat+ our first offering in the affordable wearable segment in an exclusive partnership with Amazon Fashion. Smart watches are now a functional and fashion necessity for consumers across the country. Thus, we endeavour to reach out to a large fashion and fitness-conscious audience with new launches and present them with a range of options. We are happy to join hands with Amazon Fashion to announce our new launch and look forward to Reflex Beat+ becoming a part of everyone's style."
Saurabh Srivastava – Director & Head, Amazon Fashion India said, "We are happy to launch Fastrack's new smartwatch Reflex Beat+ during our Great Republic Shopping event on Amazon Fashion and continue our long-standing relationship with Fastrack. The growing demand for fashionable smart watches will continue to see a rise in 2023, and Fastrack Reflex Beat+ not only monitors your health but also takes care of your entertainment with its camera & music control features. Our objective is to transform the way people shop for fashion in India and to expand our portfolio with easily accessible products at affordable prices for our fashion-forward and tech-savvy consumers, but also fitness enthusiasts.
Available right now at the launch price of INR 1,495/-, Fastrack Reflex Beat+ offers a promising battery life that lasts up to 5 days. The device that takes care of your entertainment needs via Camera Control and Music Control, it also allows the users to get notification alerts and reject calls while on the go. You also get weather alerts right on your wrist so you need not be worried about the changing climate details whenever you embark on a journey.