ViewSonic announced that it participated in the home entertainment event, What Hi-Fi. The company is implementing Lamp-free technology in their projection segment. Showcasing this technology, the company launched Lamp-Free X1000-4K+ LED Soundbar Projector in India at Suite No. 1212, St. Regis Hotel, Lower Parel, Mumbai. The company showcased the entire range of home-entertainment projectors under one roof. From portable projectors such as M2e to the smart home projector X11-4KP, the company also showcased the X2000B-4K premium projector upgrading the home with hi-tech solutions. The three-day-long event from 26th to 28th May also built engagement with interior designers and audio-visual enthusiasts.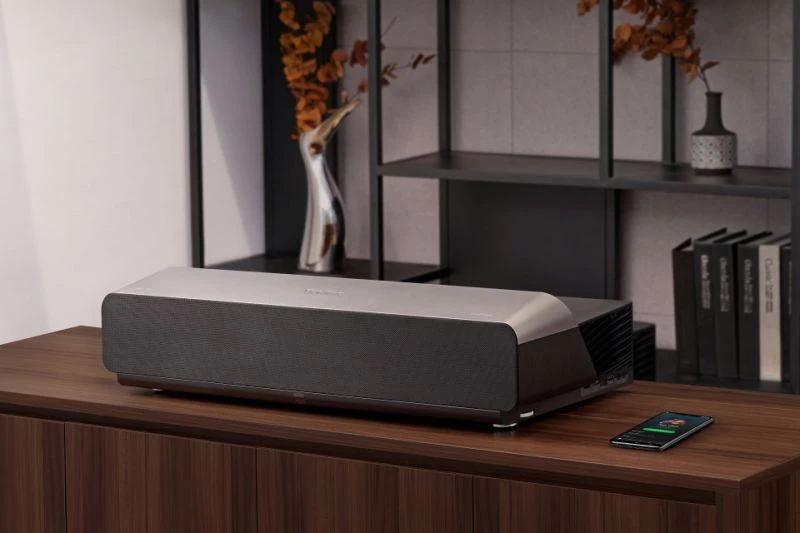 The X1000-4K+ LED Soundbar Projector is an Ultra Short Throw Smart LED projector. The product is blended with metallic paint, speaker cloth and mesh. Furthermore, the product comes with a 40W Harman Kardon-customised soundbar. The projector features also include enhanced brightness and superior colour display (125% Rec. 709), with a lifespan of 30,000 hours.
With What Hi-fi event, the company is giving a first time experience of the entire range of X series together. Recently, ViewSonic, reportedly, reached a new milestone by becoming the number one LED projector brand in India and the world's number two LED projector brand.
Muneer Ahmad, Vice President – Sales and Marketing, ViewSonic India, said, "One of the most awaiting and exciting event of this year – What hi-fi has just begun and we are delighted to participate in this exhibition. Platforms like these help us interact with experts and understand the nitty-gritty of the industry. This year, we are launching and showcasing our complete range of home entertainment products which cater both affordable and premium segment. Our X series complements the interior setup, enhancing the theatre-like experience and keeping innovative design aesthetics at par.
The platform is the right fit to launch India's globally recognised and award-winning X1000-4K+ LED Soundbar Projector. This projector is a definite purchase for OTT/movie freak; inbuilt with magnificent audio and enthralls the environment with positive vibes. In addition to this, we are also showcasing some of our exclusive home entertainment products inbuilt with cutting-edge technology. These large-format events bring multiple opportunities for the brand, like understanding the industry scenario, consumer needs and various technological developments. It also drives significant opportunities to grow our business, products and strengthen our presence. We aim to expand, lead our business exponentially and become a market leader in the industry."
The projector boasts 4K UHD visuals and 0.25 ultra-short throw ratio that enables a 100-inch image to be projected from 38 cm away. It is also embedded with Bluetooth/Wi-Fi connectivity, built-in app center and Dynamic Black technology, and frame Interpolation technology.
ViewSonic also gave a first-hand experience of its first ultra- short throw X2000B-4K laser projector. The product is upgraded with built-in 50W Harman Kardon customised speakers (x2 10W tweeter and 15W woofer), along with Dolby and DTS support. The projector is engineered with latest generation laser phosphor technology and can deliver up to 20,000 hours of use.
The ViewSonic X11- 4KP UHD Portable Projector comes with HDR/HLG support and advanced 3rd generation LED technology. The projector can be seamlessly setup and is equipped with instant auto focus, H/V keystone and 4 corner adjustments enabling side projection. With 3rd generation LED technology, the projector is reported to be eco-friendly, energy-efficient, mercury free and has longer life span. It also provides crystal clear visuals in true 4K UHD resolution, cinematic colours covering 125% Rec.709 and 16W Harman Kardon integrated speakers.
The ViewSonic X1 is a Full HD LED projector, powered by 3rd generation LED technology and comes with a lifespan of 30,000 hours. It comes with 3,000 LED lumens of brightness and 125% Rec. 709 colour accuracy. The product also comes with 12W Harman Kardon speakers.